Sustainable development is a "development that meets the needs of the present without compromising the ability of future generations to meet to their own needs."
Transport is the sector with the highest greenhouse gas emissions in France, with 28.7% in 2020. To counter this high level of pollution, France is setting ambitious targets, aiming to reduce greenhouse gas emissions by 28% by 2030 (compared with 2015). Decarbonising transport is therefore a major challenge in the fight against climate change. Various strategies are being implemented to achieve this, including the development of more sustainable modes of transport such as combined transport. This transition to low-carbon transport is essential if we are to meet our targets for reducing greenhouse gas emissions and protect the environment in the long term.
Combined Transport is a multi-purpose freight transport model, harmoniously combining road transport with rail or river transport. This intermodal transport system offers an energy-efficient logistics alternative, providing sustainable solutions to the transport challenges of the future, whether from an environmental, economic or social point of view. In social terms, it provides an effective response to the shortage of lorry drivers in France, while encouraging the relocation of jobs.
Our transport method is based on the use of an Intermodal Transport Unit (ITU), such as a swap body, container or semi-trailer. Whatever the choice, combined transport provides a door-to-door service with quality levels equivalent to those of road transport. Goods are picked up at the point of dispatch and delivered in perfect condition to their destination.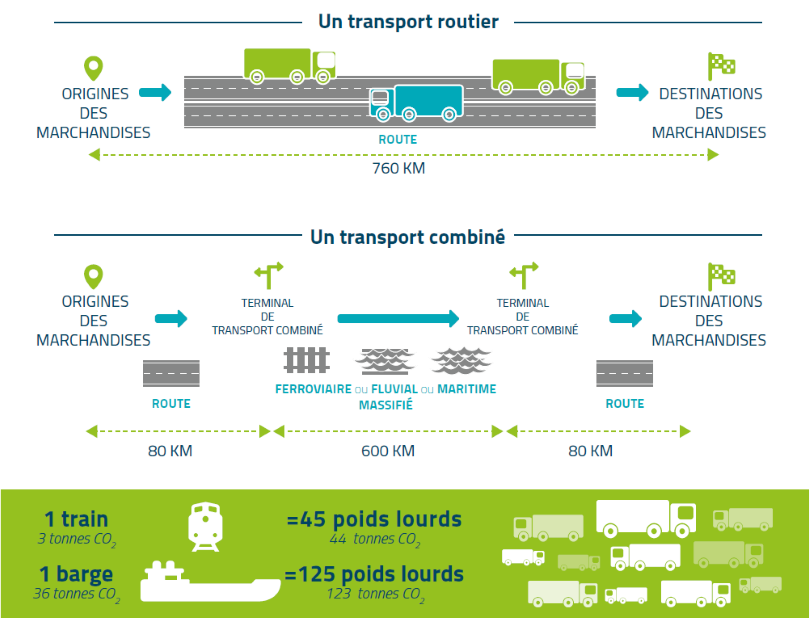 By focusing on innovation, MODALIS is actively working to make transport greener, more efficient and increasingly optimised.
Intermodal transport also means…
1,000,000 fewer lorries on France's roads every year.
1,000,000 tonnes of CO2 saved every year
85% fewer CO2 emissions than road transpor
59% less energy consumption
For the year 2030, the envisaged tripling of combined transport traffic would represent :
1.4 billion saved on negative externalities
More than 2 million tonnes of CO2 avoided, i.e. more than €600m
Savings of between €250m and €800m by avoiding around 750,000 tonnes of oil equivalent